Listen. 11.6. Assign.
1.
The Slip - Children of December
- This song inspires me. What a killer opening track from a killer album (out nov 7th). And the song is quite true, as anyone born in December will attest. Go listen to the blog on this band from a few days ago. I cannot wait to buy this CD. Just click it. [
buy
]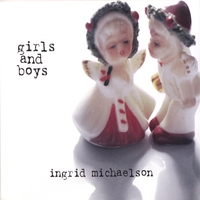 2.
Ingrid Michaelson - Breakable
- Yes, it sounds like an Enya song for the first 3 seconds, I'm sure you'll get over it, because this song is uplifting and beautiful enough to break free of the polished pop-friendly mold it inhabits. If you heard this on
Grey's Anatomy
(wouldn't surprise me, especially given the subject), you'd probably be sobbing tears of happiness.
[
buy
]
3.
Land of Talk - Seafoam - Why is everything from Canada awesome these days? It's like they are breeding top-flight female lead singers up there. Anyway, this band is new to me but highly appealing. Reminds me a lot of Broken Social Scene if Edie Brickell were singing. But way cooler than that sentence sounds. Way cooler. [
buy
]
4.
Austin James Band - Underwater - This San Diego band is about as far under the radar as it gets, but definitely are poised to make some noise. It really reminds me of Jellyfish (one of my all-time faves), complete with queen/beach boy-esque harmonies, bouncing bass lines, and even traipsing into Flaming Lips-ish territory near the end. [
go to a show?
]