Listening Assignments 4.23.07
1.
Michael Franti - Oh My God
- Though 6 years old, this track resonates incredibly. If you're not hooked in the first 5 seconds, you need a check-up from the neck up.
"You can make a life longer, but you can't save it / You can make a clone and then you try to enslave it? / Stealin' DNA samples from the unborn and then you comin' after us
'cause we sampled a James Brown horn?"
[from
Stay Human
|buy]
2.
Timber - Criminals
- This is my monday morning up-before-noon song, but it's more like an up-before-the-sun song. It feels like an audio rendering of dew-slicked grass, content songbirds, and rustling willows. [from
The New Gentleman's Shuffle
|
buy
]
3.
St. Vincent - Now. Now.
- It's a journey, this song. Things get
really
interesting at about the 3:20 mark with the sudden introduction of strings, then an out of control guitar solo. It's like late '80s Cyndi Lauper crossed with a less-breathy Bjork. She also happens to be in Sufjan Stevens' touring band and the Polyphonic Spree. [from
Marry Me
(out 7.10)|
info
]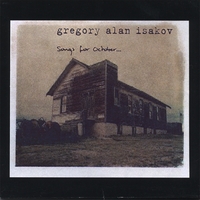 4.
Gregory Alan Isakov & the Freight - Salt and the Sea
- I'm admittedly a sucker for a nice jazz progression and I'm not ashamed of it. That is why I loved the Sondre Lerche
Duper Sessions
album from 2006. This sounds like that, but more lo-fi. Sounds like the whispering '60s, especially the thread-thin violin that makes a tasteful cameo at 1:56. [from
Songs for October
|
buy
]