Isafari, yousafari, WESAFARI.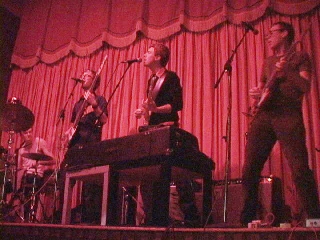 It's time to revisit
Wesafari
for the following reasons: 1. It's
always
time to revisit Wesafari. 2. It's been nearly 1.75 years since the release of this amazing record
Alaska
. 3. They are not yet a global phenomenon and should be.
Records like this one do not fall off trees. Unfortunately, they also do not fly off record store shelves (mostly because you can't find it on the East Coast, to my knowledge). Entirely self-produced and distributed, Wesafari is relatively unknown in their own hometown of Seattle, the natives distracted by other Pacific Northwest heavyweights like The Decemberists, Deathcab for Cutie, The Shins, etc. They are the underdogs with no expectations. In near obscurity, they crafted this stellar collection of sounds, samples, and hooks into an album that has easily breached my all-time top 20. Now all they need is a follow-up.
Listen: [from
Alaska
|OpAmp Records 2005|
buy
]
Shooting Stars
Whale Boy
From Glacier to Sea