Eef and Ben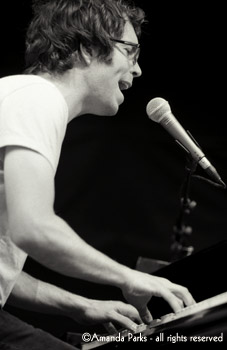 I've been in Blacksburg, VA for the last day or two to see
Eef Barzelay
and
Ben Folds
play a sold out Burruss Hall at Virginia Tech...
Eef was stunning, decked out in his all-white suit, playing left-handed guitar, dancing around quirkily. I'm pretty sure no more than 5 people in the 2,000+ crowd (including myself) had ever heard of this strangely-named performer before last night. But for the most part, he won them over. His voice was pitch-perfect, his pedal-powered acoustic-guitarwork excellent. I have a mancrush on Eef Barzelay. You can hear a sweet cover he did of "Big Country" on my
myspace profile
.
Ben was a different story. He's one of my musical Gods and this was to be my first time ever seeing him in person. I was in the orchestra pit, literally 5 feet from him! There were certainly some highlights: "Narcolepsy", "Not The Same", "Fred Jones Pt 2"...but there were some absences as well, the biggest of which was only playing two songs from
Whatever and Ever Amen
("One Angry Dwarf and 200 Solemn Faces" and "Kate") when I would have killed to see "Smoke", "Evaporated", "Selfless Cold and Composed", or "Song for the Dumped". Mid-set, his band mates left the stage for the "intimate" section of the show, which only ended up being two songs. The second, "Gracie", was intensely awkward because he refused to play the song if any noise was made, so about 8 times he restarted the song with an air of annoyance when someone would whistle or yell in the middle of the song. So that took about 14 minutes to play that 2:30 length song. I honestly felt like I could cut the tension with a knife. It really broke up the momentum of the show. That and the strange setlist and set order really added up to a strange show overall. Definitely memorable, and definitely great, but probably not as incredible as I'd expected from the amazing DVD's I've seen.
Like this one
.
So all in all, I'm really glad I came. I'm here til tomorrow, just trying to keep the blog updated. I've got new Voxtrot and a few surprises in the next few days. Thanks for reading, everyone.
Godspeed.