Listening Assignments 8.13.07
1.
Fionn Regan - Be Good or Be Gone
- It's been a
little over a year
since I first heard Fionn's addictive croon and with this amazing record finally available in the states, I think it's time to remind you about it. [from
The End of History
|
buy
]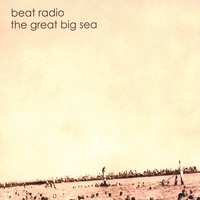 2.
Beat Radio - What I Love the Most
- One of my favorite pick-me-ups is a jogging banjo line. This is reminiscent of an upbeat Rogue Wave (who have a new CD out this fall!) track. [from
The Great Big Sea
LP
+ Miracle Flag
EP|
buy
]
3.
Sleeping States - The Next Step
- This guy's voice is like nyquil. I feel drowsy and hypnotized. I dream of whimsy and muted raindrops on my opened umbrella. Love it. [from
There are Open Spaces
(out 9.18)|
info
]
4.
Menomena - Let's Unite!
- It's sparse and weird in the Menomena tradition, with some really nice plinky Fender Rhodes-ish keys dancing alongside. This is a slow builder and a rewarding one. [b-side]