The Frog Prince Returns: Jeremy Enigk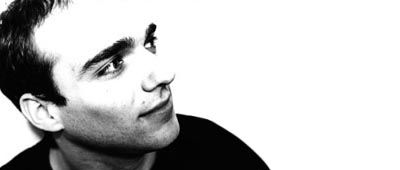 To anyone who's listened to independent music for any significant amount of time,
Jeremy Enigk
is a hallowed name. As the lead singer for
Sunny Day Real Estate
, he became a beacon in the movement towards a genre of music that combined emotion with an epic pop sensibility. The band's breakup left many in shock and many more with holes that might not even be filled to this day. That's how crazy people were for SDRE. In the meantime, he's released a solo album [
Return of the Frog Queen
, 1996] and an amazing album with
The Fire Theft
[
s/t
, 2003]. With fans chomping at the bit, he's finally set to release another solo album [
World Waits
, due October 17|
buy
]. As the album title suggests, the world
has
been waiting, but sometimes waiting makes the payoff just that much sweeter. There are some really great tracks on this one.
Recently, Jeremy stopped by
AOL's The Interface
to play 5 songs and do an interview (all of which is amazing). These two tracks are from that session.
Listen:
World Waits
How it Feels to be Something On
(SDRE cover)