A Bear, by any other name.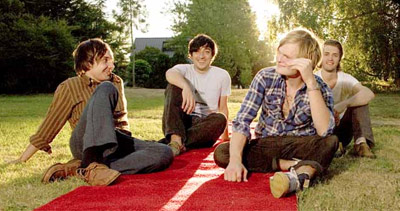 Let's not underestimate the importance of a name when it comes to a band. No, it's not more important than the musical output, but as far as first impressions go, many times it's all you get. I have more time than most, time enough to scour the interweb countless hours a week finding new exciting music to chomp into. With so many music outlets, I come across particular bands in multiple locations and eventually give in and listen if I haven't already. One of those bands is Brooklyn's
Grizzly Bear
. Their cocktail is 1 part dream 1 part heaven with a splash of avante garde. My loosely related point is this: there are too many band names that are animals. Recently, semi-violent predatory animals are popular, but not exclusive.
Wolfmother, Wolf Eyes, Peter and the Wolf, Wolf Parade, Guitar Wolf, Minus the Bear, Tiger Army, Le Tigre, The Mountain Goats, Frog Eyes, Department of Eagles, Teddybears, Horse Feathers, Band of Horses, Horse the Band, Red Sparowes, The Robins, The Wrens, Hot Snakes, These Arms are Snakes, The Snake The Cross The Crown, Deefhoof, Birdmonster, Animal Collective, Tortoise, Modest Mouse, Mouse on Mars..............
It's all just a blur now to me. How many wolf bands do we need, honestly? Anyway, I only bring all this up because this is the biggest reason I waited too long to listen to
Grizzly Bear
and I don't want you to make the same mistake.
Listen:
Lullabye
and
On a Neck, On a Spit
[from
Yellow House
, out 9/4][
buy
]
Don't Ask
(final fantasy strings mix)[from
Horn of Plenty
, 2005][
buy
]